R.I.P. Phantasy Star Online DC

A Look At An Instant Classic
October 10, 2003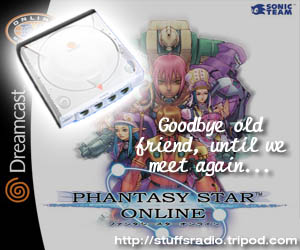 IMPORTANT MESSAGE ABOUT PSO FOR DREAMCAST
Beginning October 1, 2003 the online services for Phantasy Star Online Dreamcast version 1 & 2 will be discontinued. The PSO US Dreamcast server, (11:US/Oberon) will continue to operate and will be maintained until 9/30/03. However, starting September 30, 2003 at 11:59pm (Japan Time), 7:59am(US Pacific Time), the server will be disconnected and no players will be able to log into the game server.
The message boards have always been an integral part of the PSO community and they will continue to operate until 10/1/03.
If you have a valid Hunters License as of October 1, 2003 and after, you will receive credit for the charge against the credit card you used at the time of renewal. This credit will be issued around November 1, 2003.
Although this has been a difficult business decision, we know it is necessary to allow our valuable production resources to work on new games. On behalf of Sonic Team here at Sega, we would like to thank you for making PSO an unforgettable experience. You have brought us much joy and many wonderful memories. We invite you to try PSO on GameCube and Xbox and share your knowledge and skills with other PSO gamers so your legacy will continue to live on.
You can find more information at the Official PSO info page.
- Official SEGA.COM message board 08-29-03
Everything has a begining and an ending. Seasons change. The sun sets and the moon rises. On January 30th, 2003 Peter Moore announced the timely death of the Dreamcast. The system was on its last days when some of its greatest titles were released. That same day however, an action-RPG hit store shelves for the "failing" system that would start the online revolution. A game that would not only unite Dreamcast owners around North America, but around the world. That game was Phantasy Star Online.
Q: What are your expectations for PSO?
A: One million. I would like PSO to be a million-selling title. But who knows? I know that the U.S. will be our main market, and for the moment, feedback has been really great about the project. I really spent an infinite amount of time plunging deep into the machine of Dreamcast to see how it was meant to perform... what it was meant to be both ideally and realistically. And PSO was the clear answer. In a way, it's the killer app for Dreamcast; it uses every aspect of the system, including the most important feature, the modem. I hope that people really understand and truly enjoy this game, as they should.
- Yuji Naka, Official Dreamcast Magazine, February 2001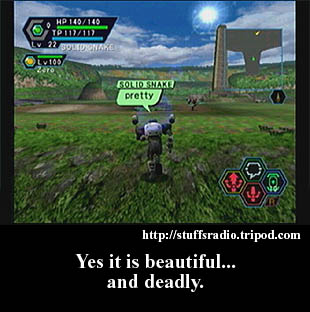 I'm not much of an online gamer. PC online gaming has never caught my attention. Sure I'm missing on a hell of alot of great titles, but when you don't have a computer that can handle it then why bother. I'm not going to upgrade my PC every 6 months too stay current, too much money. That's why I'm all for console online gaming. The Dreamcast was my first and only online source. Sure Chu Chu Rocket and Quake III were pretty kick ass online titles but they couldn't stand up to the mighty power of Sonic Team's killer app. During its final stretch, I'd go on more often after work at midnight or during weekends. I'd catch up with people I hadn't talked with in months and go kick some monster ass. I got my time in before it ended at the end of September. It was definetly the industry's best kept secret, PSO online for the dead DC system. For over 2 and a half years its servers remained open and remained free.
"I've been thinking of creating this type of communication system for more than five years now; I really wanted to design a system allowing people from all over the world to communicate together... This "universal" translator is a first for the entire industry, which has been a real challenge. The word select system has 2000 words so far..."
- Yuji Naka, Official Dreamcast Magazine, February 2001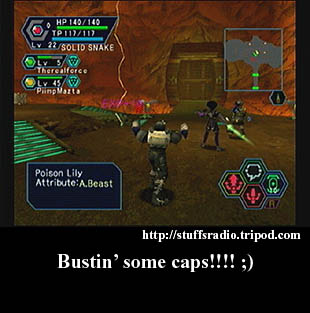 PSO was the first online co-operative, worldwide RPG. It wasn't just a game, it was about communication. For well over 2 and a half years, you'd bump into people from Japan, Europe and North America. In the mighty Pioneer 2's lobbies you'd chat with people in your native tongue or use preset phrases to get through the basics with others in different languages through a symbol chat system. You'll meet new friends and exchange guild cards. These cards are your calling ID. Once online and sent out, they can help you ID your buddies and get incontact with them. Once you've formed a party its out to blow up some monsters and upgrade like crazy.
I'll always remember playing my first game online, what a friggin' blast that was. You interacted with hundreds of people online via that 56k modem that was included with your beloved DC. 56k. Amazing. Even at the time of release you'd here people bitch about it, that 56k wasn't capable of online gaming. Bullshit. Sonic Team proved them wrong. The level of programming and mastery of that DC hardware was so evident in the title that it was technicaly amazing. The first 128-bit system with a 56k modem working with servers that held thousands of people as they chatted in different languages through the universal translator and out questing in a party of four battling huge amounts of enemies on screen at once was an achievement for the DC. In one word: Brilliant.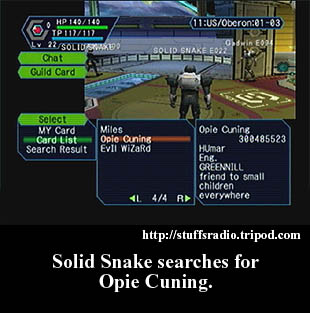 You start your adventure by creating a character through 9 different character types (there are 12 in the GC version). Some are efficent with weapons while others kick ass with magic. Next you create the look of character through body proportion, colour and so forth which is very nice. Give yourself a name and BAM off you go.
One thing I gots to point out to ya brothers is that it was one of the first title's you could play for years. Now I'm not talkin' about, "I completed the game and I'll play it again in a couple of months". Nope. With the community you established and the clans gathered, friends would get together on weekends from all over the globe. Some of my final games online had me play with a Japanese dude, a guy from Utah and a fellow from Porto Rico. Nice. We all started at the begining of the game and got to the end. What a blast that was. Sonic Team also provided downloadable missions to enhance your offline or online experience. Sadly, only one english downloadable quest was added, the legendary "Letter From Lionel". The Japanese got three. Well not for long, editors got ahold of the additional downloadable Japanese adventures and converted the save files for North American users. Head over to the fine folks at www.booyaka.com too obtain the files. You now have access to all of the additional adventures -
Letter From Lionel
Rare Material
Retired Hunter
"Phantasy Star Online also can claim the bragging rights in becoming the first videogame to match up many of its players -- for life! In fact, so many couples were getting married as a result of the game, that a Japanese magazine, the Weekly Famitsu, caught wind of it and held a contest. The prize awarded two couples that met through PSO with the honor of being wed virtually within the game in a ceremony presided over by none other than Yuji Naka and the president of Enterbrain, Mr.Hamamura. Each of the two brides received a special rare item that was created especially for the ceremony, a bouquet of flowers, of course, and friends and family were allowed to watch from a secret lobby."
- The History of Phantasy Star, Offcial Sega Website - WWW.SEGA.COM
This is why I love Sega and this is especialy why I love Sonic Team. They aren't afraid of taking chances. The DC era was full of history making moments and you ain't gonna make history or strive for innovation with out taking chances. They've never takin' the safe route when designing titles. During the Saturn era, Sonic Team could've pumped out a whack load of Sonic titles and laughed at the bank. Instead of relying on sequels and sequels, they designed new titles such as Burning Rangers and the legendary Nights Into Dreams. With the DC they brought us the first online console title, Chu Chu Rocket. The Innovative Samba De Amigo and the first internet ready title, Sonic Adventure. They aren't afraid of taking risks and in the process they've become Sega's top development team, one that has the respect of master Nintendo designer Miyamoto. Now that's saying alot.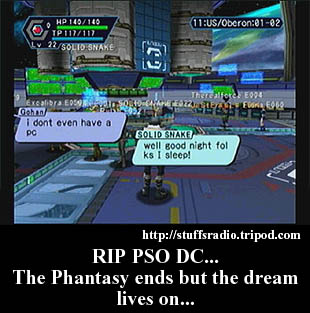 (10-01-03)
Well it's over. I tried logging on and the DC will not connect with the server. It's down. North America was the first too be shut down with the European and Japanese servers soon too follow. Like many others, the final few hours were spent with some friends as we kicked some ass and exchaged e-mails. The best was to finaly get to play with Tyler online. We've never played together once online. So, it was a great way to end an era. We got in contact with one another via the magic of e-mail on September 29th, 2003 - one day before the closing. At around 1am on the 30th, we met in the Lobby and did a little bit of catching up. We hadn't seen or talked in weeks so it was nice to chat once again. We then departed to the planet's surface and started in MINE 1 and headed on a journey that would take us to the very end. Occasioanly other comrades would pop in and out on our quest to battle evil and find Red Ring Rico. However, like all great stories they don't merely end, they only begin. Rico is nowhere to be found. Where is she? Is she dead? We won't find out on the DC. However on the GC we can continue the search with new friends and old aquaintances. Plus it's the only system to get PSO III.
- Kelley