The House of The Dead Movie Review
October 11, 2003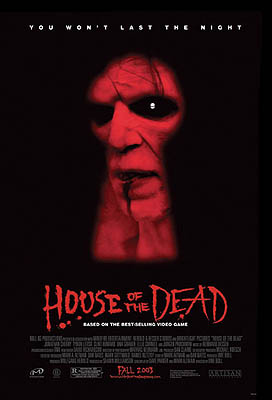 - Release Date: US March 9, 2004 – Canada March 11, 2004
- Only For NINTENDO GAMECUBE
- Total remake from the ground up incorporating the phenomenal MGS1 storyline with the great MGS2 gameplay
- Graphics and cinematics completely redone providing a more hyper, intense experience
- Audio completely redone from music to environmental to voice over work
- Progressive Scan Mode for Hi-Definition televisions (a no show for MGS2 PS2 or X-Box)
- Dolby Surround Pro Logic II
* * * *
"The information and research materials available to me are the same as those available to everyone else. I am not a prophet – it is all imagination. I am not happy if my imaginations come true, especially when many of my imaginations are coming true in negative directions," - Hideo Kojima, GMR July 2003
* * * *
Wow. That's what I first felt way back in the cold winter on 1998 after completing MGS and I can safely say that feeling has never left me. For years I continued to play the game, getting better at my stealth techniques and discovering secrets. The story still haunts players, even more so after 9/11. The message this game delivers is that your life, your very existence is more important than governments or organizations. The very essence of living life peacefully, with self worth and love for others is the most important message a narrative can provide and MGS:TTS does so powerfully.
It's also a hell of a fine game, I never had a problem with the play mechanics of the original but after playing MGS2, you would wish upon a star for the two to join forces and provide the ultimate MGS experience. Well with a little magic from Miyamoto cast upon Hideo Kojima, the creator, writer, producer and director of the series it came to being.
The game was released 1st quarter 2004 and was met with critical success. Unfortunatly much like Silicon Knights other excellent GameCube adventure Eternal Darkness, MGS:TTS didn't sell very well. Why? We'll discuss that latter in the review but first let's look a bit of the game's creation.
Origins
"Nintendo approached us and said, 'How about Metal Gear Solid for the GameCube?' We accepted the offer," – Hideo Kojima, GMR July 2003
It was after the completion of Eternal Darkness that Denis Dyack found himself in Kyoto, Japan. He came to discuss with Miyamoto-san (creator/designer/producer of Super Mario Bros, Zelda and Donkey Kong) and Iwata-san (President of Nintendo) future titles for his development studio, Silicon Knights, housed within "The Great White North" Canada.
"Miyamoto looked at me and said: "So, Denis, would you like to do Metal Gear Solid?" I just looked at him and asked, "Pardon?" Miyamoto said: "Well, I've been talking with Kojima-san and we really want to bring a Metal Gear Solid to GameCube. Kojima-san really would like to do it but his team is busy and they really don't have a lot of experience with the GameCube. So they're looking for a solid team that can work with them on this title to ensure that it's of high quality and that it'll get done for the Cube. We think you're perfect for it." So I said yes." – Dennis Dyack, IGN September 05, 2003
Thus began the journey of a Canadian software development studio would embark for the next couple of years alongside Hideo Kojima, Konami of Japan, film director Ryuhei Kitamura, Nintendo and Shigeru Miyamoto. The A-Team of the entire videogame industry would remake a legend from the 32-bit era of PS1 to the 128-bit powerhouse GC. All onboard were excited to remake a legend and update it for today's technology. It provided an opportunity for Kojima-san to finally work with his mentor in game design Miyamoto-san.
In Action
The title would hit Canadian store shelves on March 11, 2004 and was immediately a top seller. Message boards speculated for months about the positives and negatives of the remake. Many doubted that Silicon Knights could deliver the goods. Thankfully the development studio proved them wrong. Fans and new comers to the series loved the remake. The fusion of MGS2 gameplay with the cool, powerful narrative of MGS1 provided the best Metal Gear Solid title to date. Sites such as IGN's message boards even provided a vote for greatest MGS title. MGS:TTS beat out every single title with ease with a 76% vote.
The PS1 was able to model characters at 500 polygons. The GC would create more realistic individuals with a staggering 3000 polygons. The graphics alone are worth the price of admission. MGS:TTS represents the best graphics of any MGS title, proving the machine is more than capable of creating a game of this calibur. It's a pretty damn close call but upon closer examination, it's obvious the Cube is pushing the series further visually. Character modeling to texturing surpasses past efforts. Otacon and Revolver Ocelot look a hell of a lot better and more detailed than their MGS2 counterparts. Texturing is more detailed than MGS2. A lot of design in MGS2 contained plenty of plain texturing from walls to floors. Oh yeah, Meryl and Sniper Wolf look hotter than ever before. The game also runs in Progressive Scan Mode, something MGS2 on the PS2 or X-Box couldn't do. Owners of Hi-Definition televisions rejoice. There are a few moments of slow down during the action; the game will slightly dip below that 60fps mark. Now don't crap your pants by any sort of imagination, they're brief and do not affect the gameplay in any sort of way. We're not talking that the game will suddenly drop to 20fps or anything like that, it may hit 50fps. Big friggin' deal. The original had moments that were worse and MGS2 saw a dip once however it was very rare. The trade off of course is that the game is the best looking in the series period. Again I'll remind you, it's the only MGS game on the market that is Progressive Scan Mode encoded for HD-TVs. Very impressive stuff.
Of course with these delicious visuals are the all new directed cinematics from film director Ryuhei Kitamura. Now you really feel like you're watching a movie. They are fast, ferocious and hard. I can't spoil anything for those who haven't played it, but those moments that hit you hard before are even more intense. The slow mo moments themselves are beautifully executed. The finale with Snake and the Cyborg Ninja is so thrilling; it blows the hell out of anything else you've seen on the big screen. That's what's so damned impressive about the update is the huge cinematic feeling you get now. You wish this was on the big screen with a huge crowd getting' pumped up. Kojima even commented in a MGS3 interview that he was so impressed with Kitamura and the TTS team that he had to rework a number of the completed cinematics for MGS3 just to match it.
Gameplay is phenomenal. It takes a bit getting' used to the Cube's controller design but once you get the hang of it you'll be packin' and strappin'. Snake of course does all of his MGS2 actions. Putting guards to sleep, hiding them in corners or in lockers. You can sneak around and look around corners. What is also a blessing is that you thankfully never encounter those criticized MGS2 moments. You won't play for a minute then spend an hour watching cinematics, something even hardcore fans of the series were vocal about after the game's release. You'll spend a hell of a lot of time playing around now with your new moves. On top of that the enemy AI is amazing. In MGS2 you could out run your enemies and hide around a corner. Now they are relentless. You have to be pretty quick with your weapon and your feet to really ditch them. They use shields. Their quick on their toes and work like hell in groups. You gotta pray just to make it away (sorry Hammer fans). Boss battles return and now benefit from the first person mode. Some have complained that the end battle with MG Rex is easier thanks to a less effective laser. I always thought the laser on the damn Rex was a cheater on the original. I mean it would still hit you even when you were halfway under it, trying to escape. I'm talkin' about depth and I had escaped within dimensions but you know it was always a bit of a cheat the way the laser always got you even if dimensions proved it wrong. Now the laser is more precise and accurate with your whoopin'.
The audio now pumping out at Dolby Surround Pro Logic II has been beefed up with more environmental sounds and newly scored soundtrack. The score feels more like a film than the heavy electronic videogame music from the original. The ending music is phenomenal, you'll find yourself cranking up the action. The voice over work has also been re-recorded to match the higher quality bit rates of today. For the most part everyone is back; excluding Grey Fox who's new voice actor seems more appropriate than the overly acted original. Lei Ming lost her accent that had some people question it. I never did. I was always confused why a first-born Chinese-American would have a Chinese accent when born and raised in America. The North American accent makes sense people.
There are a ton of secrets to be uncovered. The extras from both previous MGS games have been combined into this package providing the most extras from any previous MGS title, minus MGS2:Substance of course. I don't wanna get into too much detail, you can find out the goodies yourself but let's just say you have a whack load of ghosts photos and dog tags to uncover.
Finale
I have been on the MGS boards for years and the announcement, speculation and discussion of this game has been phenomenal. For Nintendo this is their most important title released for the Cube to date. It's the title that millions of PS2 owners and MGS fans have bought Cube's for. Silicon Knights and Konami of Japan deliver once again, a solid AAA title. The biggest disappointment about MGS2, plot lines aside were the insane gameplay moments were you would literally play for a minute or two and get bombarded with over an hour of cinematics. The cinematics of course kick ass but you know, we kinda bought a game. That's what makes MGS:TTS even more desirable for fans and new comers alike. The chance to be able to play that kick ass MGS2 gameplay for long periods now refined with better AI and blessed with that killer MGS level design. I loved the original and enjoy the remake even more so.
Back to the first quote at the top of the review from Kojima, the game has an eerie quality to it after 9/11 and the war in Iraq. People, governments, and terrorist organizations obviously haven't learned from the mistakes of the past and haven't played this game. Not that a game can change the world but it does convey ideas and beliefs of freedoms and living in peace for one another. The frightening thing is the research Kojima did back in the mid-1990's which translated into the fictional story and factual information composed. It is powerful stuff within the world of art. MGS was the first game to really to be considered art in my eye. It didn't just play wicked or look and sound cool. No, it was the artistic quality of making the participant think about ideas, question the world we live in, and emotionally move you. That's what art is for.
That "ONLY FOR" symbol on the top right of the packaging is there for a reason, you won't see this on the PS2, X-Box or PC. You gotta get a Cube to play it. Oh yeah and Darren, if you're reading this… they finally got that snowmobile engine sound right at the end. ;)
- Kelley
Note: Bellow is the original press release of the title for archival purposes. Enjoy.
Press Release
METAL GEAR SOLID® EXPLODES ON TO NINTENDO GAMECUBE
Konami and Nintendo Collaborate to Deliver Eagerly Anticipated Blockbuster Action Title to Nintendo GameCube
REDMOND, Wash., May 1, 2003 – Continuing to broaden the Nintendo GameCube™ library, Konami and Nintendo today announced Konami will publish a unique version ofa new Metal Gear® adventure exclusive Metal Gear Solid: The Twin Snakes for Nintendo GameCube™. Metal Gear Solid ® The Twin Snakes ™ combines the thrilling story of the original Metal Gear Solid® game with the jaw-dropping graphics and unparalleled gameplay found in Metal Gear Solid® 2: Sons of Liberty™. The game is scheduled to ship later this year in North America and Europe, followed by the Japanese launch in early 2004.
Bringing heart-pounding espionage action home to gamers, Metal Gear Solid® is one of the most highly- regarded action titles series ever created. The enhanced version of Metal Gear Solid® The Twin Snakes ™ for Nintendo GameCube will combine stunning next generation graphics and gameplay, an deep epic storyline and unparalleledunmatched content designed specifically for mature gamers.
Under the guidance of Konami's Hideo Kojima and Nintendo's Shigeru Miyamoto, Nintendo's exclusive second-party developer, Silicon Knights, is working with Konami to develop the game. Silicon Knights previously developed last year's award-winning Eternal Darkness: Sanity's Requiem™ for Nintendo GameCube.
"Mr. Miyamoto is my mentor of game design. I am tremendously excited to introduce a unique Metal Gear Solid® experience to a new audience of gamers as well as about collaborating collaborate with my mentor in game design, Mr. Miyamoto, him on Metal Gear Solid® The Twin Snakes™ for Nintendo GameCube," says Hideo Kojima, vice president, Konami Computer Entertainment Japan, Inc.
"Mr. Kojima and I have spoken about this project for some time, and I'm excited our ideas have matched so perfectly," adds Shigeru Miyamoto, senior managing director of Entertainment Analysis and Development Division, Nintendo Co., Ltd. "It's this shared passion for game creation that has allowed us to collaborate to bring a special Metal Gear® project exclusively for Nintendo GameCube."
Metal Gear Solid:® The Twin Snakes™ will be featured at this year's Electronic Entertainment Expo (E3) on, May 14 to – 16 in the South Hall at Konami Booth #900 and in the West Hall at Nintendo Booth #2816@@.
About KONAMI CORPORATION
Konami Corporation is a leading developer, publisher and manufacturer of electronic entertainment properties, specializing in the home video game market. Konami Corporation's action and adventure titles include the popular franchises Metal Gear Solid, Silent Hill and Castlevania, among other top sellers. The latest information about Konami can be found on the Web at www.konami.com. Konami Corporation is a publicly traded company based in Tokyo, Japan with subsidiary offices, Konami of America, Inc. in the US and Konami of Europe GmbH in Frankfurt, Germany. Konami Corporation, the parent company of Konami of America, Inc. is traded in the United States on the New York Stock Exchange under the ticker symbol KNM. Details of the products distributed by Konami of America, Inc. can be found at www.konami.com/usa.
About NINTENDO
As the worldwide leader and innovator in the creation of interactive entertainment, Nintendo Co., Ltd., of Kyoto, Japan, manufactures and markets hardware and software for its popular home video game systems. The systems include Game Boy®, Nintendo® 64, Game Boy Advance and Nintendo GameCube™. Since the release of its first home video game system in 1983, Nintendo has sold more than 1.6 billion video games worldwide, creating enduring industry icons such as Mario™ and Donkey Kong® and launching such franchises as Zelda™ and Pokémon®. As a wholly owned subsidiary, Nintendo of America Inc., based in Redmond, Wash., serves as headquarters for Nintendo's operations in the Western Hemisphere.
For more information about Nintendo, Nintendo GameCube or any other Nintendo product visit the company's Web sites, www.nintendo.com or www.nintendogamecube.com.
METAL GEAR®, METAL GEAR SOLID®, SONS OF LIBERTY™ and METAL GEAR SOLID THE TWIN SNAKES™ are either registered trademarks or trademarks of KONAMI COMPUTER ENTERTAINMENT JAPAN, INC. © 1987 2003 KONAMI COMPUTER ENTERTAINMENT JAPAN. KONAMI® is a registered trademark of KONAMI CORPORATION. ALL RIGHTS RESERVED.
- Kelley