PAC-MAN VS. / PAC-MAN WORLD 2 BUNDLE - GC Review
December 12, 2003
Pac-Man brings presents this Christmas with a killer bundle title for the GC. We'll take a look at PAC-MAN VS. first, tackle the awsome PAC-MAN WORLD 2 next and then round off the package with a look at the excellent unlockable games within Pac's 3-D adventure.
PAC-MAN VS.
You know, why didn't anybody think about this before? For the first time, the player assumes the role of a ghost chasing after our beloved Pac-Man. Well as usual Miyamoto-san and Iwatani-san, the masters of game design come up with pure fun. The way they design titles, you sit back and say... "Damn, why didn't anybody think of that before?". The jeanous of Iwatani's classic combined with the brilliance of Miyamoto - comes an addictive multi-player treat.
Pac-Man Vs. started life as a shock and surprise to E3 2003 goers, eagerly anticipating somekind of news of a new Mario or Zelda title secretly being developed. On stage, Miyamoto openly admited his favourite game of all time is Pac-Man. We've heard this before, in past interviews and such. Miyamoto further explained that he had designed a new Pac-Man without Namco's permission. Laughter burst in the crowd... Could this be a new killer 3-D app for the Cube? Next, Miyamoto introduces the father of Pac-man, the father of my videogame youth... Toru Iwatani. I just about flipped out as I watched the E3 video from the comfort of my home. I mean, Iwatani-san is like my childhood hero and there he was on stage with Miyamoto! Holy crap!
Imagine if you will, the late 1970's-early 1980's. All the games on home consoles or arcades are about sports or spaceships. Graphics at the time, represented blocks or crude cars and such. Along comes this game with the very first videogame character, cute villians and animated intermissions. Damn, that was creative and it made my imagination dream on of Pac-Man worlds delight. Follow that with the kick ass Hanna-Barbara cartoon (oh, please get released on DVD... PLEASE!), breakfast cereal, toys, sequels, ect. and Iwatani-san made Namco and Midway the biggest arcade companies back in the day. Take a look at the legendary Pac-Land, released a year before Super Mario. Bros. and maybe you'll see a bit of influence the Pac had on the Mario. Enough with history, I'll tackle a little Pac-History in a later article.
Back to E3 2003, with Miyamoto and Iwatani on stage introducing the audience to a new Pac-man game. The audience drools. I drool. Finaly it's unvieled. The legend returns in the form of a multi-player GBA/GC connectivity game. I immediatly thought... "WTF? Where's the killer big Pac-Man game? I mean Halo 2 and Hal Life 2 look like gifts from gods compared to this?". Thankfully experiencing the title, it is a killer little Pac-Man game. The masters prove that simplistic game design is key and not big ass graphics and sound.
In Pac-Man Vs. you assume the role of either Pac-Man goblin' points or one of the ghosts on the pursuit after our little yellow hero. Two to four players aim to reach the highest scrore and win. The player who is Pac-Man uses the GBA connected to the GC and sees the whole maze. The others as ghosts, use the standard GC controllers and the television screen to see only their own partial part of the maze through onscreen windows. Off you all go on the hunt, eating pellets... Oh ya and fruit! If your a ghost you'll want the fruit for it will reveal more of the maze for you, making it easier to hunt Pac-Man down. The one who catches Pac-Man, takes over the roll. The game pauses with a status display of all 4 players and the new Pac-Man is handed the GBA and the previous Pac-Man player becomes a ghost. We've played a few multi-player Pac-Man games in the past. The legendary Coleco table-top game featured 2 players playing as Pac-Men battling for the hi-score. In the late 1990's, Namco released a version of Pac-Man for the GBC that featured the same multi-player experience. No one ever thought of playing as the ghosts and chasing after Pac-Man, trying to claim the Hi-Score throne. Oh well, I guess it was always up to Miyamoto to figure that nifty little idea up. This game is fun, addicitive, challenging. Making it a great party game.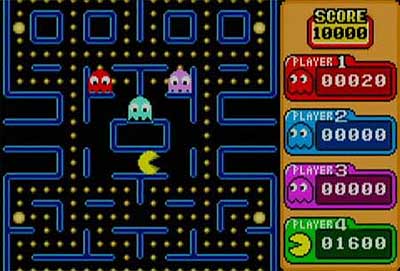 Graphics are Pac-Manian. 2-D on the GBA or 3-D for the GC. Nothin' fancy or Earth shattering. Same goes for the sound. The guy who does the voice of Mario provides the voice as a Pac-Man type of character yippin' during the game, keeping the players informed of what's goin' on. Sound effects and music are all ripped from the arcade classic, included are some new little tunes and such.
Solid, pure entertainment. You and your friends will have visions of arcade days past and hours of gaming delight. Not bad for a free title bundle with a bunch of Namco titles. Check below for Press Releases stating how you can obtain your copy if your not planning to purchase the PAC-MAN VS./PAC-MAN WORLD 2 Greatest Hits package (you're a fool not to).
PAC-MAN WORLD 2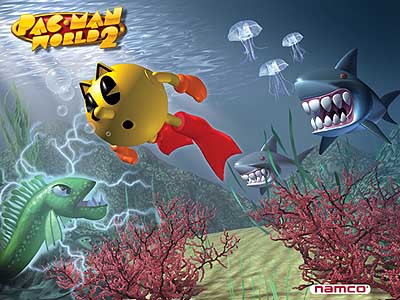 So how do follow a classic Playstation title? With another solid adventure, now in complete 3-D. Pac-Man World 2 has our little yellow hero on a mission to reclaim Magical Golden Fruit, grown from an ancient tree which has just unearthed a deadly beast which threatens all of Pac-Land.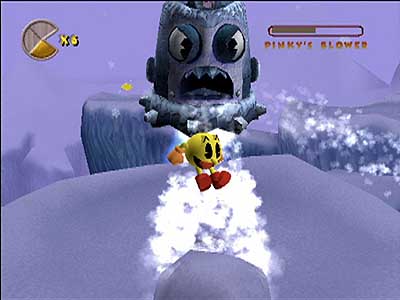 Pac-Man World 2 combines the great Pac classic action of the original title with Super Mario 64/Sonic Adventure 3-D type of action. The original Pac-Man World was a 2.5-D adventure which had you stray along a horizontal path towards goals and still able to move up-down-left-right. The latest title has gone full 3-D, the player has now full freedom to move along. Levels are completed and keeps track of the fruit and pellets you've collected. Rewards are givin' by the amount tokens you've collected. They are hidden throughout the game in obvious and not so obvious locations. Controls are straight forward and responsive. Levels range from easy to challenging. You'll do alot of jumpin', dodgin' and runnin' away from the ghosts and other baddies. Level design is simple and effective. The transition from 2-D to 3-D for our little yellow hero feels feels very Pac-Manian. The world is what you'd expect it too look like as Pac-Man dashes around with a big smile on his face. It's very charming and cute, a nice departure from the seriously pissed off characters you see in 90% of all game development today. The camera, like Super Mario Sunshine is appropriate in most cases but you'll find yourself adjusting it once and awhile to achieve better views. Camera adjusting is very easy to do and is required. Are we surprised? No, not really. There are moments you'll be like, "WTF?" with the camera but I've had the same issue with pretty much every 3-D adventure ever designed from Mario to Sonic to Zelda.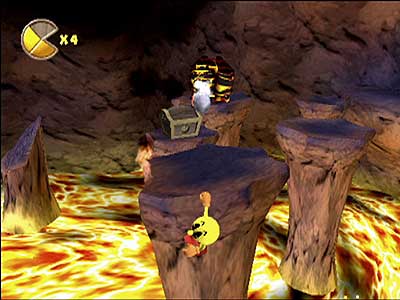 The graphics are bright, simple, cartoony and colourful. They run at a constant 60 frames per second (Woo-Hoo!). Levels play much like the original Pac-Man World as a linear path marks your outcome. Thanks to the 3-D, the linear path has been busted wide open with a hell of alot more side exploration and challenging obstacles. There are dozens of secrets and hidden areas to be found if you feel adventurous. The game design isn't trying to bust open the genre and do something revolutionary. You'll complete it in around 10 hours, but to collect all the pellets, fruit and tokens you'll be spending double the time. It's a well designed 3-D action platformer that gets the job done. Overall, I enjoyed this title even more than Super Mario Sunshine and hey, the rewards for playing come out in the form of some beloved arcade classics.
UNLOCKABLE EXTRAS
What a damned awsome package this is. Your not only are you going to get the latest Pac-Man game and a top notch 3-D platformer, but bundled for unlocking in World 2 are -
PAC-MAN - The original 1980 arcade classic perfectly emulated for your GC. The game that started it all. The game that mainstreamed the entire videogame industry. The game that brought men and women together in the arcades. Bow down and worship. 10 token to unlock.
MS. PAC-MAN - The smash 1981 arcade classic perfectly emulated. The family begins and the adventure continues in this legendary sequel. One of the most loved arcade games in history. You shall bow down as well. 180 tokens (DAMN!)to unlock.
PAC-MANIA - 1987 arcade sequel featuring Pac in a 3-D type enviroment. Perfectly emulated and featuring some neat graphics. Featuring a jump button for Pac to jump in the air to help avoid the baddies. 100 tokens to unlock.
PAC-ATTACK - A fun Tetris-like puzzle game based on the original SNES/GENESIS title. Good ole' fashioned fun. 30 tokens to unlock. 30 tokens to unlock.
PAC-MAN WORLD 2 MAZE - As you progress through the title and unlock more and more mazes, they get stored in the arcade for you later to play.
JUKEBOX - Cool! Listen to in game music and such. 60 tokens to unlock.
Now all of these goodies are obtained through collecting tokens for use in Pac-Land's SUE's ARCADE! Ya baby! The more tokens collected, the more you unlock.
WRAP IT UP
As a newly released budget title from NAMCO (we're talkin' around $25 here people), there is just no way you can pass the title. Either being a fan of the original arcade classic or you're looking to explore Pac-Man's new exploits, you have to purchase this. As a Pac-Man fan, you owe it yourself. I mean you are gettin' a hell of alot of games. You get the latest multi-player, "crap-in-your-pants-its-fun" Pac-Man game, plus the latest World title and those classic arcade games. You can tell the total package was put together with alot of love the character. GameCube owners rejoice! The Pac is back. Too clear up any confusion, let me just set the record straight... The only way you can play PAC-MAN VS. is for the GameCube. I'm sorry X-Box and PS2 fans... No new Pac for you.
Below I've archived Namco's and Nintendo's press releases about Pac-Man VS. Enjoy!
- Kelley
* * * *
Press Release: namco.com
NEW PAC-MAN GAME CONNECTS NINTENDO GAMECUBE AND GAME BOY ADVANCE FOR MULTIPLAYER FUN
Namco, Nintendo Bundle New Take on the Classic Game with Other Exciting Titles REDMOND, Wash., and SAN JOSE, Calif., (Oct. 15, 2003) - If you've ever spent all your quarters zipping Pac-Man® through his mazes at your favorite watering hole, you'll be happy to learn those days are behind you. A collaboration between Nintendo of America Inc. and Namco Hometek Inc. has made the hot new Pac-Man® vs. game available exclusively for Nintendo GameCube™. This special game is also available at a very special price-free!
The unique new multiplayer version of the all-time classic arcade video game, now with connectivity to the Game Boy® Advance, will bring a new style of game play, and will be available only through three special offers.
"The partnership between Nintendo and Namco gives game fans a new spin on an old favorite," says George Harrison, Nintendo of America's senior vice president for marketing and corporate communications. "This Pac-Man may be the best ever, because it brings together players and systems in a whole new way."
Anyone who buys a copy of Pac-Man World™2 or R: Racing Evolution™, both published by Namco for Nintendo GameCube, will receive a free copy of Pac-Man vs. bundled with those games. The bundle for Pac-Man World 2, the newest entry into the Player's Choice library, is Rated E for Everyone and will be available Dec. 2 at an MSRP of $19.95. The bundle for R: Racing Evolution, Rated T for Teen, will be available Dec. 9 at an MSRP of $49.95. Starting Dec. 4 at specialty retailers, fans also can receive Pac-Man vs. free as a gift with any purchase of I-Ninja™, Rated T for Teen, at an MSRP of $49.95.
Pac-Man vs. lets players compete head-to-head using a Game Boy Advance and a Nintendo GameCube, connected by a Nintendo GameCube™ Game Boy® Advance cable. One player uses the Game Boy Advance to control Pac-Man as he gobbles his Pac-Dots. Up to three other players on the Nintendo GameCube control the Ghosts and chase Pac-Man around the board. If a player's Ghost catches Pac-Man, those players swap controllers and the game continues. Whoever hits the predetermined scoring cap first wins the game.
Nintendo's own legendary game creator Shigeru Miyamoto, driven by his desire to create an updated version of his favorite game, Pac-Man, worked closely with the game's original creator, Toru Iwatani of Namco, on this exciting project.
"We were very excited to work with Nintendo and Mr. Miyamoto to bring Pac-Man vs. to life on both the Nintendo GameCube and Game Boy Advance," says Nobuhiro Kasahara, president and chief operating officer at Namco Hometek Inc. "What better way to utilize the exciting new feature of connectivity than with the classic gaming character, Pac-Man."
About Nintendo of America Inc.
The worldwide leader and innovator in the creation of interactive entertainment, Nintendo Co., Ltd., of Kyoto, Japan, manufactures and markets hardware and software for its popular home and portable video game systems. Each year, hundreds of all-new titles for the best-selling Game Boy® Advance and Nintendo GameCube™ systems extend Nintendo's vast game library and continue the tradition of delivering a rich, diverse mix of quality video games for players of all ages. Since the release of its first home video game system in 1983, Nintendo has sold more than 1.8 billion video games globally, creating enduring industry icons such as Mario™ and Donkey Kong® and launching popular culture franchise phenomena such as Metroid™, Zelda™ and Pokémon®. A wholly owned subsidiary, Nintendo of America Inc., based in Redmond, Wash., serves as headquarters for Nintendo's operations in the Western Hemisphere.
For more information about Nintendo, visit the company's Web sites at either www.nintendo.com or press.nintendo.com. Please note that press.nintendo.com is a password-protected site; to receive a password, contact Tom Stratton at (206) 505-8308.
About Namco Hometek Inc.
Namco Hometek Inc. is the U.S. consumer division of Namco Limited, a Tokyo-based world leader in the high-tech entertainment industry. Based in San Jose, CA, Namco Hometek Inc. is an award-winning video games publisher for the next generation game consoles. Namco has created some of the industry's greatest video game franchises: Tekken®, SOULCALIBUR®, Dead to Rights®, Pac Man World™, Ridge Racer®, Time Crisis® and Ace Combat®. For more information about Namco and its products log onto www.namco.com.
* * * *
Press Release: nintendo.com
Namco Ships Pac-Man vs. For The Nintendo GameCube This Holiday Season
Dec 02, 2003
Gaming's Classic Character Is Now Available In A Unique New Way
Leading video games developer and publisher Namco Hometek Inc. announced that Pac-Man vs. has begun shipping to retail outlets nationwide. Packaged with Pac-Man World 2, the newest entry into the Player's Choice library, Pac-Man vs. is now available exclusively for the Nintendo GameCube and uses the special connectivity feature to link the Game Boy Advance to the Nintendo GameCube. With an MSRP of $19.95 and rated E for Everyone, Pac-Man vs. brings an old favorite back to the limelight just in time for the Holiday season.
Designed by Shigeru Miyamoto, Pac-Man vs. lets players compete head-to-head using a Game Boy Advance and a Nintendo GameCube, connected by a Nintendo GameCube Game Boy Advance cable. One player uses the Game Boy Advance to control Pac-Man as he gobbles his Pac-Dots. Up to three other players on the Nintendo GameCube control the Ghosts and chase Pac-Man around the board. If a player's Ghost catches Pac-Man, those players swap controllers and the game continues. Whoever hits the predetermined scoring cap first wins the game.
"We are very excited to have a new addition to the Pac-Man family," said Garry Cole, Senior Vice President of Sales. "By incorporating this classic character with the unique connectivity features of both the Nintendo GameCube and the Game Boy Advance, players are offered a new style of gameplay that will bring them closer to the competition than ever before."
With six worlds and more than 20 levels to explore, Pac-Man World 2 offers a variety of gameplay mechanics including Shimmy and Flip Kick. Also featured in the game are the in-line skating and ice-skating skills that propel Pac-Man through the amazing 3D Pac-Mazes.
Pac-Man vs. will also be available with other Namco games for Nintendo GameCube including R: Racing Evolution and I-Ninja. Each copy of R: Racing Evolution will include a copy of Pac-Man vs., is rated T for Teen, and will be available Dec. 9 at an MSRP of $49.95. Starting Dec. 4 at specialty retailers, fans can also receive Pac-Man vs. free as a gift with any purchase of I-Ninja, Rated T for Teen, at an MSRP of $49.95.
* * * *